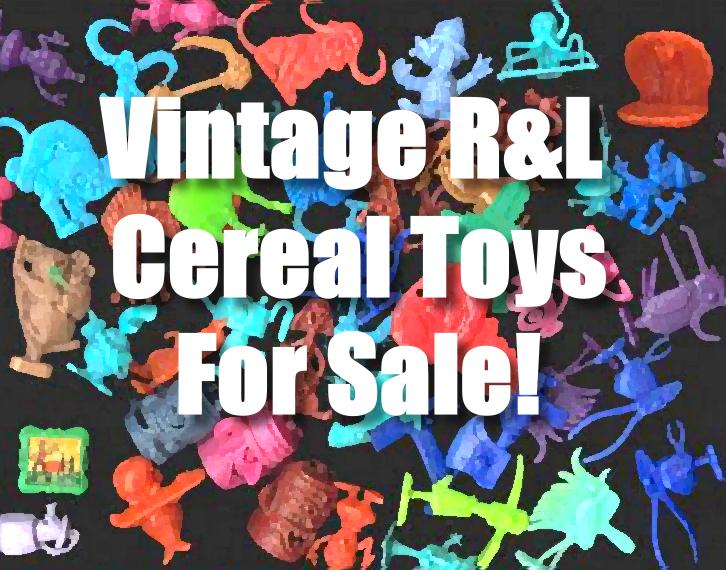 Last Updated: 28 October, 2018
Still got your childhood critters & stuff? Sell (or swap!) here with confidence! CLICK HERE to find out how...

LAY-BY!!! We now offer lay-by for your LaRGeR critters purchases... feel free to ask!
What are R&L cereal toys?
Perhaps the most fun thing to ever happen in a cereal bowl, that's what!
From the 1960's til the 1980's, Australian plastics manufacturing company Rosenhain & Lipmann brought millions of children around the world unbounded joy in a small cellophane bag. Most less than 2 inches tall, these brightly-coloured plastic premiums incited a collecting fervour amongst the younger Kellogg's Cornflakes customers like nothing seen before in cereal food marketing… outré alien Crater Critters©, happily industrious Tooly Birds©, desert-conquering Crazy Camel Trains & dozens more families of simply fun toys. Despite the fact that millions were produced & exported across the globe, very few have survived the rigours of their toy-box existence to make it to the 21st Century. This unusual marriage of intense initial appeal & high mortality has resulted in their keen desirability today.
Getting around cratercritters.com
each series of R&L premiums has its own For Sale page, which you can access by clicking on their name in the menu at left of your screen.

each series of R&L premiums were issued in a variety of colours, the range of which differs from series to series. The colours available for sale for each individual premium are listed, in code form, to the right of each picture. Please CLICK HERE

for a Key to our

COLOUR CODES

How to buy

Clicking on the 'Order Now' email link next to each premium will open an email window to our order department. Simply let us know your selections in this email. We will usually reply within 24 hours to confirm availability of your selection & provide you with details of how-to-pay. If certain colours are desired, please note next to each premium the specific colours you would like, or prefer. We will provide you with a nice colour assortment if you decide not to specify.

All prices are in AUSTRALIAN DOLLARS.

All prices include GST.

POSTAGE is a flat $5.00, to anywhere in Australia, for any quantity ordered. This includes tracking & secure, professional packing [Overseas $19.00, by trackable air-mail].

SATISFACTION GUARANTEED!

Buy with confidence!

All R&L cereal premiums & other toys on this website are ORIGINAL VINTAGE ISSUE, not reproductions.

All are in NEAR NEW condition (no chews, bites or breaks), unless otherwise noted.

All items are packed & shipped in a professional & timely manner.

We offer a 7-day money-back guarantee if not satisfied.

We have successfully traded in Australia as "Pippin's Old Toys" from 1986 to 2009, & online since 2002.
Payment
Options We Accept
Australian buyers:
Money order

Direct Bank Deposit

PAYPAL
International buyers:
PAYPAL
Any Questions?
Just send an email to
kingcrater@cratercritters.com
Copyright © 2002-2018 John Graham. All Rights Reserved. The names 'Crater Critters','Tooly Birds' & all likenesses thereof are registered trademarks of John Graham.